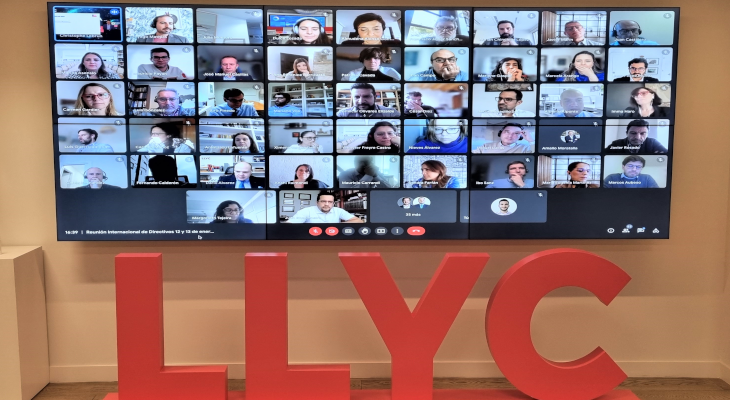 Today, LLYC begins its International Meeting of Partners and Executives, involving the participation in streaming of more than 100 professionals from the 12 countries where the firm operates. The business plans for 2022 in the different offices and fields will be presented and discussed for three days to tackle the new communication challenges and clients, along with the future strategy of the consultancy firm to achieve its planned growth targets. The commitment to technology, innovation and creativity will continue to play an important role in this roadmap.
This meeting will be an opportunity to reflect on the integration of the new capacities and teams following the major acquisitions made by LLYC last year: BESO in Mexico, and CHINA and Apache in Spain. Furthermore, the future acquisitions and inorganic growth strategy of the firm will be discussed to bed down its position as the leading communication, digital marketing and public affairs consultancy firm in Spain, Portugal and Latin America.
For José Antonio Llorente, Founding Partner and Chairman of LLYC: "2022 must be a year of consolidation and growth for the firm, to comply with the commitment taken on with the market in our launch on BME Growth. Communication has become a key tool for the success of any company. We have made, and will continue to make, significant investments to offer our clients the solutions that allow them to adapt and anticipate the future".