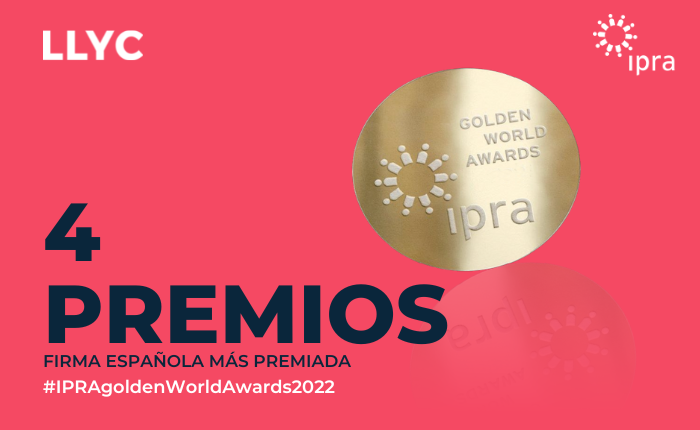 Trends

Achievements

Countries

Colombia

Spain
LLYC picks up new awards. Four IPRA Golden World Awards 2022, organised by the International Public Relations Association, were recently won for LLYC's work in Spain, Portugal and the Dominican Republic. It was the Spanish firm that received the most awards at the festival.
Bihar, choose tomorrow', for BBK, was the winner in the Climate Change category and 'You're a gamer and you don't know it', for Multiópticas, in the Influencer Management category. Both campaigns were designed by LLYC's Consumer Engagement team in Madrid. The 'Reverse Selfie' project, developed by the firm's Consumer Engagement area in Portugal for Dove, won the award in the Public Relations category. Meanwhile, the Online Crisis Communication award was received for the action 'President: Big Data for Crisis Management' developed by the Communication, Risk and Reputation teams of the Dominican Republic office for CND (Cervecería Nacional Dominicana).
The IPRA Golden World Awards, which have been held since 1990, recognise excellence in global public relations and communications practice in a variety of categories. In this year's edition, there were 91 award winners from all over the world.
2022 is proving to be another successful year for LLYC. The firm has already accumulated more than 50 awards and recognitions in the main national and international events (Lions Cannes, Brand Film Awards EMEA, CLIO Awards and El Sol). It has once again been voted "Best Communications Consultancy in Europe" at the PRWeek Global Awards 2022.