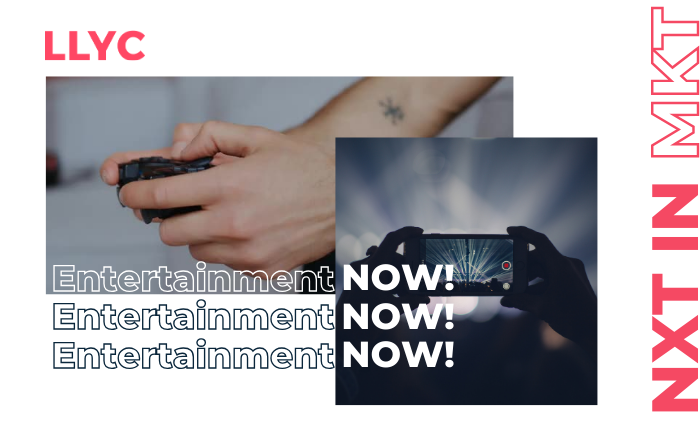 Trends

Publications and Reports

Countries

Global
This month, NXT in MKT by LLYC's Consumer Engagement International team discusses the latest trends in brand entertainment. In its latest podcast episode, "Entertainment NOW!" the team explores the growing trend of brands using entertainment to connect with consumers and key players in the sector. It also examines the top companies shaping cultural trends through movies, series, theme parks, and merchandise.
This episode shares insights from David Gonzalez Natal, Partner and Managing Director of LLYC Northern Region, and Aisha Hamud, Engagement Director at LLYC Mexico. They are joined by special guests Luis Pedro Estrada, Media Consumer & Shopper Director Mexico at The Coca-Cola Company, and Sebastian Belmont, Marketing Manager at Hisense Mexico. The discussion revolves around the latest forms of entertainment and how new technologies drive the industry forward while connecting with audiences.
Additionally, they discuss insights in articles by executives such as Mariana Salgado, Marketing Manager at Hotmart LATAM, Emilio Martinic, Commercial Director of 1190 Sports, and Viviane Groisman, Marketing Director at TV Bandeirantes, which shed light on how top brands are adopting new trends in advertising as well as in their core business by creating innovative approaches of entertainment like streaming, gaming, and esports.
Almendra Ogdon, Advertising and Brand Manager at Movistar Argentina, shares the secret of a modern and effective marketing strategy that connects with society through emotional experiences.
Warner Bros.' Publicity and Brand PR Manager for the Andean & Caribbean region, María Consuelo Bernal, emphasizes the significance of producing high-quality, authentic, and creative narratives that provoke unforgettable emotions within the audience.
In addition, Presidente Brand Manager Noelia Merejo discusses the creation of Presidente Studio, a platform for promoting musical talent that led to great streaming success.
You can't miss it!