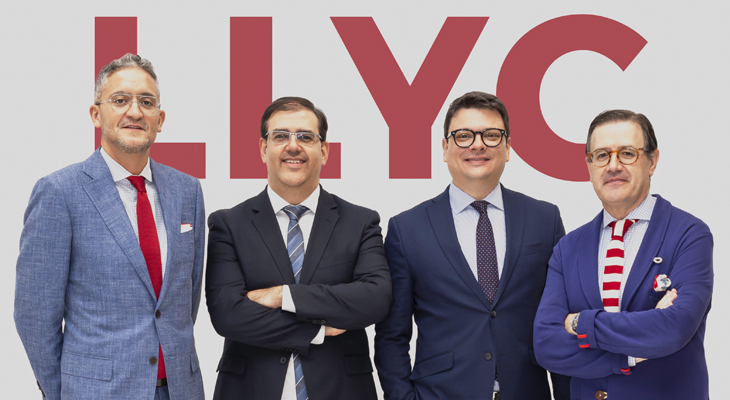 LLYC has added two new Partners, Juan Carlos Gozzer, Partner and Regional Managing Director of the Southern Region, and Cleber Martins, Partner and Managing Director of LLYC Brazil.
With these two appointments, the firm now has 21 partners, of which 10 perform their professional activities in Latin America and the United States and 11 operate in Europe.
LLYC's Founding Partner and Chairman, José Antonio Llorente, said: "With these appointments we are acknowledging the objectives met and the excellent results achieved by Juan Carlos and Cleber in their respective areas. Brazil is among the markets with greatest potential for the Firm and both professionals have built an excellent track record, helping us to become one of the leading communication and public affairs consulting companies in the country. The fact that two in-house professionals are joining our partners group shows that we have been able to create the ideal conditions for professional development within the company, something that is a source of pride for us".
About Juan Carlos Gozzer
Juan Carlos began his professional career at LLYC in 2008 as a senior consultant in the area of digital communication in Madrid. His progression has been constant since then, holding various positions of responsibility in which he has demonstrated his talent for managing teams and clients, as well as his commitment to results. In September 2012 he became LLYC's Director-General in Brazil and in his five years leading the operation, he has overseen the growth of the company with the opening of the Sao Paulo office and the integration of new teams and services following the acquisition of S/A Comunicaçoes in 2015. From January 2019 he has been in charge of regional management of the Southern Cone. An expert in digital and corporate communication, as well as reputation management and engagement, Juan Carlos has worked on projects throughout Latin America with clients such as Grupo Cisneros, Petrobras, LATAM, CCR, Softys, EDP, Oracle, Scania, Geopark, Grunenthal, American Tower, among many others.
About Cleber Martins
Cleber Martins came to LLYC in 2017 from the vice-presidency of Máquina Cohn & Wolfe, an agency of the WPP Group, to replace Juan Carlos Gozzer. As the new Director-General, Cleber has brought to LLYC's operation in Brazil his extensive experience and leadership skills in corporate communication, team management and strategic accounts. A journalist and lawyer, over a 15 year period he held various positions at Folha de S.Paulo, one of Brazil's leading newspapers, including business editor and deputy economics editor. In the area of corporate communication, he has led reputation projects for leading Brazilian companies, covering major transactions, crisis management and executive training. His management skills have been demonstrated by LLYC's excellent results in Brazil, which this year achieved a 27% revenue growth. With offices in Sao Paulo and Rio de Janeiro, LLYC Brazil has a total of almost 80 professionals.