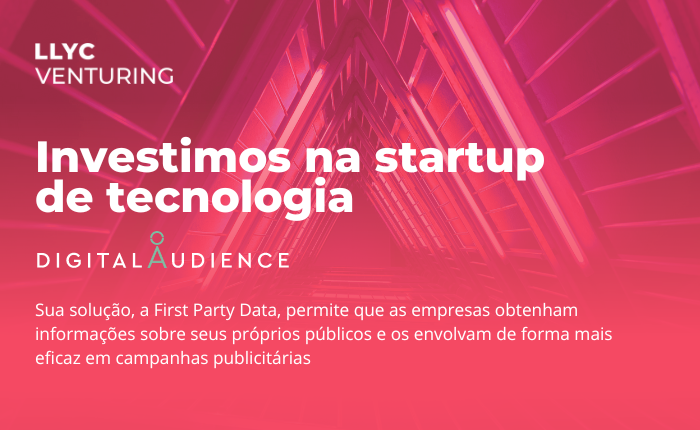 LLYC Venturing, the company of LLYC SA (BME:LLYC), has made its second investment in Digital Audience for an amount of 100,000 euros, after participating in the latest investment round of this Dutch technology company that is an expert in new digital marketing strategies. This firm has created a platform for large companies that want to manage their advertising campaigns in compliance with the new General Data Protection Regulations without having to depend on data which is now extracted through cookies. Its First Party Data solution (data obtained through company sources, such as the web or social media) allows advertisers to increase the knowledge of their own audiences and activate them more effectively in advertising campaigns.
Digital Audience was born in 2015 in Amsterdam, founded by Ruben Niet, Engineer for HBO in the Netherlands, with experience as Sales Manager at the communication company Sanoma (ilse media), as Sales Director for Ebay and as a Mentor at Startupbootcamp. Also on the team is Bastiaan Spaans, Bachelor of Economics from the University of Groningen and MBA from INSEAD, with experience as Business Developer at WebAds (publisher network) and Commercial Director of Improve Digital (specialized consultancy for Media Buyers). The company attracted 38 clients and a cumulative turnover of 1.6 million euros in 2021.
Marta Guisasola, Partner, Global CFO and CEO of LLYC Venturing: "Digital Audience delivers on our LLYC Venturing value proposition of supporting disruptive technology by supporting them on a business and strategic level."
Adolfo Corujo, Partner and Deep Digital Business CEO: "Digital Audience fits perfectly with LLYC Venturing's orientation to improve the firm's competitive position towards the development of an ecosystem of data centric solutions to solve the complex challenges of our clients. In this way, we reinforce our commitment to innovation and technologies deployed in an environment of privacy and first party data to ensure effective marketing in secure environments."
After the first investment last June in Erudit, which uses Artificial Intelligence to improve talent management in companies, LLYC Venturing plans to allocate up to a maximum of 5 million euros in 20 projects over the next 4 years, between 50,000 and 500,000 euros in each of them.
The companies in which LLYC Venturing wants to invest are focused on the following sectors: software for digital marketing, artificial intelligence focused on communication and marketing, blockchain firms that allow to transform communication, IoT (Internet of Things) that improve human/machine communication and virtual reality companies that help improve immersive experiences.