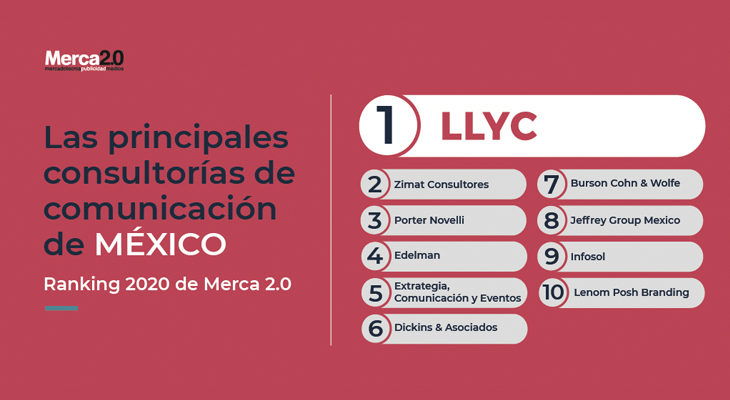 LLYC is the Best Communication Consultancy Firm in Mexico, for the second year in a row, according to the 2020 communication company ranking drawn up by the Merca 2.0 magazine.
This list is based on a study conducted by the Research Department of Merca 2.0, which this year looked at 133 agencies and assessed four performance indices: billing, employees, accounts and digital metrics, of which the top 70 are highlighted.
Javier Rosado, Partner and Managing Director of the Northern Region at LLYC, said that "this is recognition that all our clients should know about. They have been placing their trust in us for the last 13 years. They are the driving force behind our growth and have seen how our teams have steadily adapted and anticipated their needs with a focus always on achieving their business targets."
In Mexico, LLYC currently employs more than 70 professionals in seven areas of expertise: Digital Communication, Corporate Communication, Consumer Engagement, Crisis, Tourism, Financial Communication and Public Affairs.